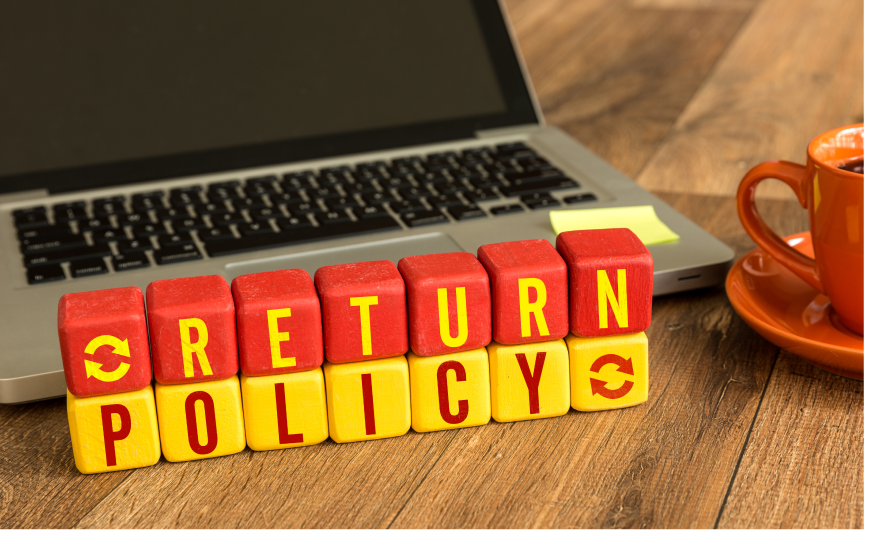 09 Jun

How to Write a Return Policy for eCommerce Business?

Did you know that 92% of customers will buy something again from an online store where returning a product is as easy as purchasing it? And, 30% of products bought online are returned to the seller.  

It's quite inevitable that every eCommerce business has to deal with returned items. Reverse logistics is the linchpin of customer retention and growth. When something is unavoidable, we find a way to deal with it more conveniently.   

Similarly, in this situation, to make the whole return process smooth, a business has a return policy in place. A return policy serves to make the return management process more transparent and easier for both customers and sellers. An explicit return policy is written and posted on the website to keep sellers and customers on the same page.   

Take advantage of fulfillment Hub USA's advanced technology and well-trained staff to manage your returns hassle-free.    
What is a Return Policy?   
A return policy consists of a set of explicit guidelines for the customers for returning a product. A return policy helps both the seller and customer follow a consistent return process. It also covers the conditions to return a product protecting a seller from fraudulent returns and credit card chargebacks that result in a huge loss in profits every year. A return policy is crafted to ensure a business is not plagued with losses incurred due to returns while keeping the customers happy and satisfied.   
What should be included in a return policy?   

Every return policy is uniquely designed according to the business keeping in mind the type of items they deal with. For instance, perishables like food and dairy items usually are given very little timeframe to return. In contrast, electronic gadgets have up to 30 days return policy.   
Your return policy must contain unique guidelines that suit your business. However, there are some general guidelines every awesome return policy must contain. Below are some of the most generic concerns your return policy must address.   
Designated Time Frame for Returning the Items  
One of the most important things your return policy must have is the time frame stipulated by you for returning an item. Instruct your customers through your return policy exactly how long they have to return the product. Generally, the standard period for returning an item (non-perishables) is 15 – 30 days; however, some companies offer a generous 90 days return policy.   
Failing to disclose a time frame for returning your items, you will experience customers trying to return items bought months and sometimes years ago. In one such case witnessed by LL Bean, customers returned old beaten-up boots in exchange for new ones after five years. Reportedly, LL Bean lost $250 million in the last five years on returned items due to its open-ended return period policy.   
Define the Condition of the Item Eligible for Returns  
Accepting a return that has been requested by the customer immediately after receiving the item, either due to item breakage or customer dissatisfaction, is totally fine and acceptable. However, sometimes, customers try to return items after using them, subjecting them to wear and tear, making them impossible to resell to another customer.    
When writing your return policy, make sure to include the condition a product must be to be eligible for a return. Otherwise, you might end up with returned products in poor conditions that cannot be resold, forcing you to take a loss.   
Refund or Store Credits: What's It Going to Be?   
As an eCommerce owner, you will have two options to repay your customers – a full refund (money credited to the source) or in-store credits. With growing consumer demands and fluid return policies across various businesses, many customers expect a full refund whereas some will settle for store credits.   
Not deciding between store credits and refunds, we suggest you incorporate both refund methods to keep your customers hooked to your brand. Offering a full refund to all returned items might not be a very favorable strategy for your business, whereas offering only store credits in exchange for returned items might upset your customer.   
Therefore, incorporating a full refund and in-store credit combination makes more sense. And, your return policy must explicitly explain under what circumstances they will get a full refund or store credits.   
List the Requirements for Returning a Product   
It is best to mention clearly in your return policy if you have any requirements that need to be fulfilled to request a return. For instance, the product has to be returned in its original packaging unused, and it should contain all the accessories that came with the product, the tags on the products must be intact, the package should have a purchase receipt, and so on.   
These are just examples gathered together from return policies of various industries such as apparel, electronic items, etc. However, your set of requirements can be different from theirs.   
How Long Will the Process Take
Quite naturally, customers get anxious when they have returned the item and don't hear from the seller for a while. Customers are always eager to get their money back as soon as possible. We understand that refunding the money according to customers' expectations is not always possible.   
But, the least you can do is keep them informed of when exactly they can expect their refund. Your return policy must succinctly inform people about how long the whole return process will take.   
Is it Going to Cost the Customers Anything?  
There is no denying the fact that returned items management or reverse logistics costs an equal amount of resources and money as much as shipping the product in the first place. We can understand if your business cannot afford to offer free returns to the customers; few businesses still in the growth stage do not offer free returns.   
However, 49% of retailers offer free return shipping now, and 79% of customers want free return shipping. Offering free return shipping will help you build customer loyalty. However, we do not vouch or are in support of free shipping. You can create a return policy that suits your business best.   
All we can suggest is whether it is free to return shipping or the customer has to pay for it, whatever it is, make sure to specify if it's going to cost the customers anything. If yes, how much exactly will they be charged?    
Tips for Crafting a Good Return Policy? 
Use Simple and Natural Language 
You are writing a return policy to educate a general audience regarding the return process of your business, not writing a legal document with legal jargon. The return policy must be clear, concise, and written in natural language.   
Stuffing your return policy with technical jargon will confuse the reader resulting in them reaching out to a customer service executive. This increases the resources required to explain to customers the return process, which a simple and clear document could have easily avoided.    
Don't Beat Around the Bush
Try to keep your return policy straightforward while not being rude. You want to make yourself crystal clear about how you expect the customers to return the product to you while not sounding too uptight about it. Find the right balance between these two, and you have yourself the first key to a frictionless return process.   
Where to Display Your Return Policy   
Your return policy is no good if it is hard to find. Do not let a customer spend a lot of time searching for the return policy. It results in avoidable hassle for both customers and sellers.   
Online-store:
We believe the best thing to do is add the return policy page link on every page of your online store. It is nowadays very common practice to add the return policy page along with terms and conditions in the footer of every page, and a customer would also expect to see the return policy in the footer of your website. Furthermore, it is wise to enclose a printed copy of your return policy in every package you ship.   
Brick and Mortar Store:   
Take a printout of your return policy and paste it on the walls of your brick and mortar store where it is easily visible, generally near the cash counter. In addition, you can print the main points of your return policy on the backside of your receipt.   
Conclusion 
67% of customers read the return policy before purchasing an item. The key to a frictionless return process between customers and sellers is an explicit return policy. It should be clear, straightforward, and very easy to understand. Remember to include the conditions of items to be returned, how long the return process is, and the steps involved in the return and refund process.   
Manage Your Returns with Fulfillment Hub USA   
Fulfillment Hub USA is a third-party logistics, fulfillment, and warehousing solution provider with 150+ clients. Experts in handling and storing goods, we also include reverse logistics in our services. Managing returned items is a challenging task that has to be done with utmost scrutiny, requiring an experienced staff and advanced package tracking technology.   
We can provide both – experienced staff and technological prowess like advanced tracking systems and inventory management systems. With Fulfillment Hub USA, you will experience smooth and glitchless return management.   
Frequently asked questions  
What is a return policy?   
A return policy is a set of guidelines regarding returning an item structured by a seller to educate its customers.   
What should be the main components of a return policy?   
A return policy must generally include the time frame for returning a product, the kind of condition the product must be in to return it, is it going to cost the customer anything, and the requirements that need to be met for returning an item.   
Why is a return policy important for a business?   
 A Return policy protects a business from fraudulent returns and chargebacks. In addition, a return policy keeps the seller and customer on the same page regarding the return expectations.   
How to write a good return policy?   
The most important thing to remember while writing a return policy is to keep the content simple and easy to understand without any legal or technical jargon that will confuse a customer.